Moderator: animeprincess
This went on for so long that It wound up with its own play list!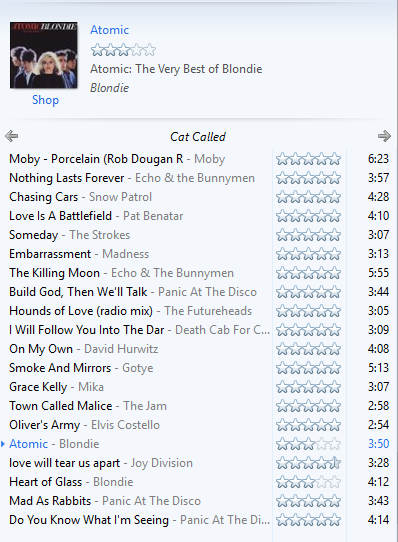 2 Secs... let me just get this level...
renchan wrote:As a Californian living in a location where they call Taco Bell Mexican food, I feel Mello's pain.

Intimately.
Orangepunch said she was at a place and they had barbacoa...it was shredded beef smothered in Heinz BBQ sauce.
2 Secs... let me just get this level...
I have been grinning so much while reading this and thinking about it that my cheeks ache a bit. No lie.
mrsj wrote:Matt easily pulled away. "And Plague Inc. Got an epidemic going and this disease called Hand Jive."

Mello interrupted. "Hand Jive? No, in fact. Forget about it. I don't want to know."
It's ok, Matty, I think it's funny. /dead
mrsj wrote:before diversion in the form of a vintage video game shop had seen them delayed long enough for Mello to start craving 'a stack of pancakes with maple sauce and bacon, oozing globs of butter, and filter coffee so strong it could be used to hold a fence-post up'.
Slackers! And, uh... Ernie's? Cafe Berlin? Trying to think of places you can get breakfast downtown close to Slackers Games...
mrsj wrote:(insert car and colour)
(Toyota and blue) if this is what I think it is
mrsj wrote:"The lady with the black hair had a Jack Skellington bag! Remember Jack Skellington? Nightmare Before Xmas?"
/dead and buried
I feel a bit chastised and wish that I had brothers like these two to kick people's asses for us. Not quite sure I can express how much I personally loved this, and I'm sure Aqua will be around soon to add her thoughts. Gonna have to check out a few songs on that playlist as well.
Love, love, loved it. Three-shot! Wow!
Idealism sits in prison
Chivalry fell on his sword
Innocence died screaming
Honey, ask me, I should know
NOW LET ME TELL YOU A STORY...
Soo after the longest half of a week in a long time of pure retail hell with obnoxious hours, customers, and very little sleep I carted my ass along I-70 from St. Louis off to Columbia to get some rest and TLC with A.
13 hours into my coma in her bed my phone pings.
Bleary and not all there I read the message, not entirely clicking into place what Amaryllis has written me from work.
"Mattie wrote you a fic."
Quite 100% out of it I replied with something I hoped was coherent before falling back into my coma for another 45 minutes.
Hour fourteen hits and I finally pull myself from bed and go through my very late day, dropping A off some food at work, go to a tattoo consultation, then sail off to sit with friends till A gets off work never thinking to check my phone.
Its not until A and I meet back up after work that I recall I have a wonderful story to read! Christmas has come early!
Cue my gross grinning and wiggling around while I cook and read. I think I had to double take at least three times when you had them lurk into the very town I was currently in. Reaction video worthy if I hadn't been browning meat.
THERE IS SO MUCH I WANT TO GUSH ABOUT. I WILL BE YOUR DOODLE BITCH FOREVER IF I GET FICS WITH MATT AND MELLO INTERACTIONS LIKE THIS. MATT'S DRY HUMOR! MELLO'S SASS BACKS! ALDJFWLKENF......
Legit though, I needed this big bro help from the boys a few weeks back when I was walking in StL and a guy slowed down to yell out that he was going to "rape my ass". Need some Mello tactics there.
That man would have too much in mafia assets to dig up in St. Louis too. Ugh ugh ughhhhhh feels.
Thank you thank you thank you
You're wonderful.
I'm thrilled to bits that you both like it.
Below is the updated part three. Let me know if there was something else that could have been added (for example, if you had a SuperMario car freshener dangling, Matt might have commented. Or if you could have been wearing a t-shirt with something else that pings against their life). Shout up if any detail was wrong/improbable here. I do aim for realism.
I've also added this to the library.
And here's the playlist I used to write it, though the version of Porcelain is wrong. It should be the Rob Dougan remix.
https://www.youtube.com/playlist?list=PLByCrRZTTP_FP1FXfPwGJhj7reIsJzklc
III The Mello of the Species

It was improbable. Yet there they were looking at those self same plates. It was barely possible, let alone an encounter bound to take place. More so since the five asshole men from LA were at it again. But not there. Not even in the state. They were two thirds of the way across the country for fuck's sake. In another part of the US entirely. Over 1,600 miles from source and therefore the position of their last encounter.

"No." Matt slowed, himself driving this time.

Mello still, watchful like a snake. "Is it possible that we both misremembered the reg. plates? Saw something similar and filling in the blanks for ourselves now?" He was just double-checking. He knew. He was already loading his firearm. This was no packed, multi-lane Los Angeles freeway. A main street nevertheless, but one much smaller, quieter, and anyway it was far later at night. Matt hadn't bothered to answer Mello's second-guessing conjecture. The redhead's silence conveyed concurrence with Mello's unspoken conclusion most eloquently. "They are actually shouting at ladies, aren't they?"

"Looks like it." Matt agreed. "Always possible they've snagged the odd misidentified man in their sexual harassment haul." Flashing a smile. "Not like anything like that ever happened before."

"Drop it."

It had been a fraught three weeks, travelling from city to city, sharing time as tourists alongside Mello sneaking off alone to close businesses, amalgamate accounts and a dozen other little proprietary jobs that was his luck and lot as the sole surviving member of his Mafia Family. It had made him rich. But it didn't exactly look after itself. Mello had informed Matt that 90% of their assets weren't even in banks nor being laundered through various concerns. Left long enough without retrieval, the whole hoard would disintegrate into a mouldy mush of its own frail papery matter - green-backed, of course.

In short, Mello was digging buried treasure not only out the ground, but from secret strongrooms, long locked warehouses, degraded penthouse safe-boxes and the occasional wall or chimney. He didn't take Matt with him; though the redhead digitally tracked his whereabouts, with Mello's knowledge and collusion for once. It wasn't like he could stop him, Matt was quite ingenious with electronics and capable of inserting pin-prick locators in places Mello didn't wish to contemplate. On the other side of the equation, all of Matt's arguments for accompanying his spouse met deaf ears. Mello only agreed under duress to let his husband computerise the cleansing of his filthy takings - hacking banks to alter accounts (whilst avoiding triggered the automated anti-fraud systems) and/or installing auditable fake businesses through which the proceeds might be passed onto the economy bit by bit, lest it break down completely.

And in between that there had been discussions too deep for home. Sparked by Matt casually commenting, "You never did look into Lamond's idea, did you?"

Ice-cold drenching Mello's sensibilities. "What's that?" Though he recalled perfectly well.

"Bigender."

"Ok." Mello
had nodded in that hotel room in Utah. "On this occasion I will feed the troll."

"I'm not trolling."

Mello shrugged his differing opinion on the matter. "Get on your knees, puta, and open wide. Prepare for one heck of a fucking stuffing, because I intend to feed this troll hard and fucking deep as it will bastard well go." The rough deep-throat oral sex had hurt. Matt's mouth and throat were bruised for a week, all the way across the Rockies and into Oklahoma. It looked somewhat better by Texas, where Mello had taken a week to wrap up the most urgent ten dozen caches. Matt was aching and bruised again by Louisiana, healing by Arkansas and apparently not yet learned by Missouri.

They were just off the interstate somewhere roughly halfway between Kansas City and St Louis. Initially abandoning the I-70 solely long enough to locate toilet facilities before Mello shat himself - thankfully since done - before diversion in the form of a vintage video game shop - Slackers - had seen them delayed long enough for Mello to start craving 'a stack of pancakes with maple sauce and bacon, oozing globs of butter, and filter coffee so strong it could be used to hold a fence-post up'. Mello's new favourite analogy, since high wind had blown down one at home, and the local DIY stores seemed wholly unprepared for the sudden upsurge in custom for similar purchases, all related to repairing wind damage. That was by the by. Several streets later, Ernie's, a Mom and Pop type cafe, served precisely what Mello sought and now they were lost.

Insofar as both individually thought they knew where they were, and the exact route back to I-70. But their conclusions were at odds with each other. They could probably find their way quite easily, if they could just settle on following just one version of the return journey. But bickering, rebellion, mutinies and threats had the couple switching constantly back and forth, until both were turned around and each still considered themselves the sole effective reader of any given map.

Which was to say that it was yet more random and bizarre to see the car of assholes on this street. They didn't even know what street this was, or if they were still in Columbia, or in some town on its outskirts, or heading back the long way towards Kansas City.

But first there were bigger concerns. Retribution to enact and a manhood to reclaim. Mello smirked and it wasn't pleasant.

Matt spoke calmly. "This isn't LA."

"I'm fully aware, thank you." Mello blandly told him. "I wouldn't have allowed you to get us lost, if this was LA."

"You said you could have taken them there and found an out. Old friends of your ex-associates, who..."

Mello cut him off. "I'm well aware of my own standing, thank you." They were trawling along the crawler lane, keeping some distance between themselves and the two cars occupying dual lanes before them. Keeping it slow because the lights kept changing, stalling both vehicles at the intersections after every single block. There were words being exchanged. The lady in the green mini-truck extending an arm to flash the birdie. The wankers in the much dustier silver Chevy taking that as consent for a come -on. The cat-calls grew louder, bisected with shrill wooting and lewd noises.

"So why are you gearing up to shoot them?"

The Slav peered upwards, head still partially bowed, to watch for a moment through the windscreen. Then returned his attention downwards to fix the last ammunition cartridge into his semi-automatic. His focus back on the scene in front for another long moment before answering, sounding quite gleeful. "Because I'm an evil bastard. Much worse than you ever gave me credit for, in your dreams of Miho."

"You're going to execute five men in cold blood, because I asked if you'd had further thoughts on Lamond's theory that sometimes you're a girl?"

"You think they're not armed?"

"Don't give a shit. You are."

Mello pulled a face. "So much logic there."

Matt brought the Chevrolet to a slowly rolling stop, easing off the accelerator as the traffic lights ahead took an age to turn, until they were idling in watchful pursuit. "You're killing them because they made you cry and you can't forgive that. Not when it happened in front of me. In Los Angeles. Where you once ruled as king."

"So because I cried, I'm a girl?"

"No. Because you cried, you're a human being. So are they. Every chick I know would have taken them down there and then, and kept their knackers for souvenirs." Matt chewed a frayed fingertip of his racing glove. Blankly emotionless, calm, watching. Facing Mello head on, even as the Slav began to sneer the notion. Then stopped, because it occurred to Mello that Matt didn't really know many of the female of the species. When that sparse number included Hal Lidner, Deontic, Bubbles, Cloud and Lauren, it was probably fair comment. "They forced you to confront questions you don't want addressing, even inwardly, by yourself."

The recent list of ladies at the forefront of his mind, Mello leered, "You think being thought a woman demeans me? Let me call Bubbles for you, tell her how much lesser you believe femininity to be offer what you've got to offer." He thudded derision in a loud nasal exhalation. Bullish and feeling it. The testosterone surging today. In this instant. "You crawl naked on the floor in chains and cuffs, begging permission to breathe. You have no grace nor instinct for self-defence that any one of half a dozen ladies I could mention take as standard. It would be an honour to be compared to any of those women. Bubbles amongst those top ranked in my esteem, of either sex." Mello glowered straight ahead, then recaptured his word, sneering. "Sorry, gender."

"Bubbles isn't a woman." Matt softly told the night. "She's a kick ass hacker, best military infiltrator I know. Probably best in the world. By all accounts a fantastic librarian. Knocks up a mean blueberry pie and she's great in bed." He smiled at Mello's sharp glance sidewards. "Force10 told me."

"I think you'll find that Bubbles is a woman."

"Nope." Matt maintained, inching the car forward as the lights changed again. "That's just the bit under the dress, and that's nothing to do with me. What Bubbles is is an inspiration, a mentor and a friend. Cyber mama, peace-keeper and chief shit-stirrer of truly epic proportions. I hear that she's a female. That's her business. I'm not about to look to verify something that meaningless." Finally getting to the point. "And you're Mello. The body bit affects me here. I'm partial to the cock. And the ripped muscles laying into me with a whip. The pretty boy face I get to look at. Kiss." Frowning at his view of the scene through the windscreen. "K. She jumped a light."

"Got away from them. Two of them were out of the car. The lady was scared."

Matt could have deduced that for himself in his sleep. He didn't point such details out to Mello, because being patronised wasn't the important conversation just now. "Do I drive in beside them?" Awaiting orders, mostly to make Mello feel important, now he was feeling combustibly slighted. "What's the plan?"

Mello opened his mouth to issue an order, but at that moment another vehicle pulled from a side-street and drew parallel to the wank merchants, precisely when the traffic lights changed. Instead, Mello said, "She was blond." Nodding at the red lights glowing above her rear bumper. "I think the woman in the passenger seat was a redhead."

Matt chuckled, "Game on." Though the mirth was actually because Mello was projecting and wrong. The passenger was brunette. Both cars ahead sped up, trying to beat the lights.

"Speed up." Mello barked. "Longer highway section here."

Matt raised his foot from the clutch and the Chevrolet stalled. "Oops."

Mello's gaze glittered cold fury and mistrust. The distance growing between them with a stare. "What are you doing, Emilio?" Their quarry was already one busy block away. Several cars had already pulled out between them and it, with another overtaking them now as they sat. "Trantruming, baby?"

A slow, placid smile, which certainly wasn't fooling Mello, washed across Matt's face. "No. I'm not tantruming. Why are you so scared of the mere concept of bigender that you won't even discuss it? That you'll smack me up in Metairie to shut me up, and fill a gun in whatever fucking place this is."

"Columbia."

"Told you, we left Columbia miles back."

Mello jabbed a finger through the open window beside him. "There's a signpost for Mizzou motherfucking University there! Why don't you ever listen to me? We left Columbia following your mad reason. I turned us around. Now we're back in Columbia."

"No. We're further along towards St Louis. I saw a sign to Ferguson a few streets back, which was definitely the way to the interstate. But you..."

"Start the car!" Mello bellowed. Matt twitched and almost did it. The Slav yelled out his rage. "We're in the middle of the bastard highway, dick for brains. Not the optimum location for your flaking out. And they are two blocks away now." Beside him, Matt shrugged though certain tells saw the deep anxiety underneath the nonchalance. The air between them crackled. Mello's arm rose upon the backrest behind Matt. He didn't need to feel cold steel to know it was the hand which held the gun. "Drive."

Matt wrinkled up his nose in complete disregard of the carefully posed danger. "Do it."

"Drive."

"No." Matt grinned at him. "Safety on? You won't get your deposit back, if you've splattered the interior with my brains." Shoulder up and rising, dropping again. "What you going to do now I've called your bluff? You're a fucking cunt, Mello." Someone sat on the horn behind them, before veering around with shouts and the birdie thrown. "He's got, like, three empty lanes of traffic and he's whining, kicking off like a two year old because I've lost power in the slowest lane of all. Not like he was freaking well stuck behind me, was it?" Turning his head sidewards to face Mello's dark stare again. "Oh fuck off. I want to speak with Miho."

Mello growled. "Oh! For Christ sake!" And a police car slowed into the space beside them. A policewoman and a policeman staring coolly inside. Mello's hand had instantly dropped behind the seat. The firearm concealed, as long as neither officer shone a light inside. His face turned away, on the off-chance that his profile was still on the Most Wanted list. Though it shouldn't be. Matt took it off years ago and checked weekly in case anyone remembered his husband too legally. Ice blue eyes glowing from the dark, peering up from his head's resting point partially between the seats. Nodding once, shortly at Matt.

The redhead notched up the English accent to the levels of parody. "I'm most terribly sorry! We've hired this vehicle and it's much more powerful than anything I've ever driven before." Wiping tears. No pride when a decent troll session was on. "I stalled approaching the lights. I kept trying to start it again, but I'm scared I'm flooding the engine. Everyone said it would be so easy driving in America. Please can you help me."

"Can you see through those goggles, son?"

"Yes." Matt nodded, wholeheartedly. Mello breathed a snort. "They're prescription. They're not nearly as dark as they look from the outside."

The gentleman driver called out, "Have either of you had anything to drink tonight?"

"Water." Matt was wide-eyed. At the level of his shoulder, Mello's stare was in slits. "He had some coffee, but that's all."

The female officer hadn't dropped the cold surveillance from her seat into their car since they'd arrived. She nodded pointedly at the back of Mello's loping head. "What's going on here?" Her expression said he was already fucked, she didn't believe a word he'd spoken so far and he'd better hold the bullshit. "Is your passenger alright?"

"He's my husband." Matt told them guilelessly, while Mello closed his eyes in silent rebuke. "He's Californian and he's done, like, most of the driving so far. He let me have a go, so I could experience driving on the other side of the road, and it was ok!" Radiating enthused alrightness, as innocent as an overgrown sheepdog. Mello's nose quietly wrinkled. This was not the fastest way from this situation. It was only just in the realm of Matt edging his bets. "He felt fine with me. But he's been sleeping now for miles, and I started to panic without his back-up to support me. Then stalled the car. Panicked more. You got here then."

The woman seemed unconvinced. Looking at him like he was patently a terrorist, war criminal and/or serial killer; responsible for the breaking of every rule in the law-book. Which was unfair, Matt thought. It was only one section of it. Extensively broken, over and over again, sometimes twice in one night. He smiled at the officer. She nodded towards Mello. "Wake him up then."

Mello glared at him. Matt nodded sweetly, brushing his own hair back behind his ear, as he bent down. Face to face with his best friend, lover, Lord, Master and spouse. "Watari." Matt mouthed instantly, as he was soon as neither officer overlooked him. But quietly aloud, he spoke, "Sweetheart, I'm scared I've got us into big, big trouble." Hand sliding along the length of Mello's arm, taking the gun from his grasp and stashing it beneath the rubble of road-maps, crisp packets, coffee cups and other debris in the back foot-well, while Mello aped wakefulness. And they got to see if his face was known by this fairly parochial police officers.

It shouldn't be, and it wasn't. Though it took a good ten minutes before they were on their way again. Matt's driving ticket pinched between lighter and cigarette packet in his gilet pocket. Mello driving. But Matt had the gun. The Slav lazily commenting, "You're lucky you weren't taken in."

"Oh, it wasn't luck." Matt responded without emotion. "I led them by the balls."

"You usually do." Leather glove palm flat before Matt's chin. "Firearm please."

"Like fuck. You pointed it at me. Like you were nineteen and being all Mafia on your off-days again."

Mello gave him a look to kill, but his mood was waning. More exasperation than driven with furious intent to violence. "We lost them."

"I saw."

"If I can't trust you, Mail." Mello warned. But left the sentiment empty. Unsure himself of what he was going to say.

Matt picked the police notice from his pocket and let it drift flapping in the wind for a while, before releasing the fine to fly freely back down the road towards the people who gave it to him. Then he lit a cigarette, catching Mello's grim staring this time. "You can trust me." Matt informed him. "I'd protect you with the last breath in my body. But not the cunt with the gun. He should be long gone and never coming back."

Mello sighed, turning his head to glance as long as he dared whilst driving out of the side window. Just to not have Matt in his vision. "Just let me know when you've finished moulding me, won't you?" He lightly told him, sadness penetrating his tone now. "So I can see what the final product will be. Work out how to live within its limits and lines."

"What you talking about?" And gasped, hand rushing up to point out of the front window. But Mello had already seen. A little too close to stop for that particular lay-by, he nontheless made it without any drama in screeching tyres and brakes.

Both cars parked up there, half concealed from the road by the short wall, billboards and other advertisement boardings. The two ladies huddled terrified inside their locked car, while three of the men swarmed bodily over its framework.

"Stay in here." Mello hissed, stepping out.

"Fuck that." Matt replied, emerging from the other side. They exchanged meaning laden looks over the bonnet, then, as one, paced around to stand side by side at its front grill. Matt's arms crossed over his chest, cigarette dancing amidst a smile. Mello's hands against the paintwork behind him, apparently at ease in watching them. Though every instinct in every gaze drawn to him buzzed warning signals loud and clear. Mello projecting it all. Far less dangerous than he was twenty minutes ago, from Matt's point of view. But no-one witnessing the sardonic command he held with a look would have believed that at all.

The party was wilting on the top of the blue Toyota. At least in terms of its slobbering frenzy. Though it was difficult to ascertain precisely what the Yahoos hoped to achieve, other than traumatising the women. A shortish individual standing on the roof. One foot back, resting on its toes, like he'd been interrupted in the process of kicking, stomping onto metal. Heaven help him, Mello swore a private oath, if he repeated that while Matt was present. One half stripped chubby man was lying on his front lengthways up the bonnet, palms against the windscreen. He'd apparently been licking the dust splattered glass in long stripes beneath his face. Judging by the strange position of the window wipers - one trapped under his arm, grazing it there - it seemed that the females within had made some attempt to get him off. It wouldn't shift him. But it might hurt. If it hit in the right place. His friend had his flies gaping, pressed up against the driver's closed side window. The two women huddled in the centre of their vehicle, arms about each other. Too intimate for simple friendship. Lovers. With engagement rings.

"Ah." Mello languidly pushed away from the hire car. Aspect raising in shadows about him. His quiet speculation rumbling out. "A couple of ours."

"Jesus fucking Christ!" The twat on the Toyota roof pointed. "What the fuck are you?"

"The face you'll see in dreams for the rest of your Godforsaken life." Mello spoke gently, grinned horribly. As he paced forward two more steps, Matt passed behind him. Sauntering to peer around the women's vehicle with his fingers paused about the cigarette in his mouth. Surveying the men's dirty transport. Smirking. The other hand dancing up with two fingers extended. "What are doing? Fucking in the rear seat?" Mello addressed Matt. Who looked hot as fuck and dangerous as all Hell in Mello's view just now. He hoped that he appeared the same.

Above him, shouty guy bawled out. "Fuck shit! He's wearing make up! Like a, one of those, motherfucking faggots."

The first shot took him in the shoulder. Mello hadn't even brought his own firearm - retrieved from Matt in passing behind him - around from his own rear side. Mello sighed, "Oh baby. Let me have a little more fun before you massacre their asses in this place." His arm was out straight now, barrel of the Berreta pointed right across the Toyota's bonnet, at the galvanised male pair huddling there. Cut off from their car by Matt sauntering, similarly armed, between the two cars.

"Passed out." Matt blithely informed him. "Fuckface one in his own vomit." Mello's semi-automatic rang out twice and a scream started, and didn't cease in the area behind Matt. The redhead didn't turn around. "I think Fuckface two just woke up, at a most inopportune time." He laughed, pointing a few feet down, bending to squint for a closer look before standing. "That?!" Derision riding his tone. "He was offering you that?! What the fuck you going to do with something that deformed and teeny."

"As long as he's screaming in pain for my pleasure, I don't care what strip of skin he's got dangling. He's not going to get any there." Mello took the final few steps, marching around the Toyota to stand over the topless window licker and his flaccid friend. Screams continued in the trapped vehicle beyond Matt. Sirens howled in the distant night. The man from the roof sprawled unconsciousness on the ground under the women's rear passenger door. Blood pooling beneath. "Quickly, guapo. Ladies can't leave with us blocking the exit, and him littering the way under their left rear wheel." The couple inside their Toyota seemed hardly less afraid for the intervention of Mello and Matt. Though they weren't the ones howling. Two more shots rang the night. Followed by a third. Mello taking the kneecaps of the licker - the man who'd called him beautiful in LA - leaving him in agonized flailing, screeching horror into the night air, in terror for his life. His friend already gone. Matt's last shot hitting square in the shoulder with such force that the penis waver had flown over the small wall into the slightly deeper than expected dip on the other side. Adding a head injury to the rest. "That was for Hal Lidner." Mello crowed, half bowing to his uncertain audience. "Who wouldn't have fucked about in LA. Ladies." A nod through the windshield. A shot from behind their vehicle making them jump, flinching. But it was only Matt putting a hole in the prone alcoholic's torso. Mello frowned, despite seeming suddenly high on this. "Why always the flaming shoulder? Are you aiming for the heart, but habitually miss?"

Mello couldn't discern his spouse's soft response over all the screaming. But took the time to pause beside the Toyota's passenger side window. "You are quite safe now." Beaming within at the startled ladies. "Next time, don't take them to a lay-by. Motherfucking police station or public car-park. Please." He kicked the bleeding man clear of their reverse access. "Stay if you want questions until the early hours and the good constabulary of, whatever this place turns out to be, confiscating half your possessions. Otherwise, reverse at high speed, drive as soon as he's cleared the exit. Get the sweet fuck out of here." Mello ran himself, but his husband was already hurtling back. A piece of printed A4 paper flapping in his grasp. "What?" Mello sighed. "Fuck's sake." He rushed to take the driving seat, then paused. Much as he hated to admit it, Matt probably did have the edge on reckless careering in cars, through city streets turned Formula One racetrack. Though Mello's skills weren't too shabby either.

Matt appeared at the driver's side window of the Toyota. Knocking urgently at it, showing them the paper through the glass. Trembling shock back at him, the blond woman didn't move to allow him access to herself and her financee. Whatever else they were, they were safe enough in there. "For you!" Matt told them, sticking it under their broken wiper. "Made it for him, but he won't use it."

"Baby!" Mello's shout brooked no dissent. "Now!" He didn't need telling twice. Those cop cars were awfully close. Matt dashed back surprised to find the engine running, Chevrolet turned, but Mello in the passenger seat waiting. "What did it say on the sheet?" The Slav asked, languorously, as Matt leapt in. His husband grinned but didn't answer until they were reversing at steeply accelerating speed onto the highway, gears shrieking at the swiftness with which they were expected to switch. Then they were off towards St Louis (or Kansas City, it would be a surprise which one). Amazed to find, in the rear view mirror, that the two women were speeding away too in their blue Toyota. For a moment, both vehicles roaring along the same road. Until Matt left them standing at traffic lights. He having determined that the red stop sign didn't signify for him. "Did you see?"

Matt's bottom lip protruded upturned. He didn't know until he was told.

"The lady with the black hair had a Jack Skellington bag! Remember Jack Skellington? Nightmare Before Xmas?"

"Freak." Matt responded.

Mello leaned across and kissed him right at the corner of his mouth. "I can't tell you how hard I'm going to fuck you later. Looking forward to it." He sat back, arranging himself neatly in his seat. Extracting chocolate to savour on the wild ride towards the state border. Presumably, as long as they kept in one direction, they were bound to hit one sooner or later. At least the gas tank was filled to the brim, done just before chaos had erupted again upon their lives. "So what was on the A4 paper you gave them?"

Matt smiled. "What I made for you in Texas and you didn't want it. Yellow block capital writing on black background. 'You've made me feel like a real woman for the first time tonight. Thank you for your support of the Transgender community!'

"Too wordy." Mello declared, then, "I hope she uses it." Grinning over chocolate as they out-raced police patrols all the way to Illinois. Saving the Mello's Mafia caches in Missouri for a later day.
And Matt sent this:
2 Secs... let me just get this level...
I've moved this to one-shot stories, but left a shadow copy of the topic in the original Mello x Matt fan fiction stories, just to see what a 'shadow copy' was.
2 Secs... let me just get this level...
lol, Aqua has a black and silver rosary now (guess who inspired THAT purchase) but I don't think she had it that night.
Still love this to pieces.
Thank you for writing it.
And thanks to Matt for the sassy note.
Idealism sits in prison
Chivalry fell on his sword
Innocence died screaming
Honey, ask me, I should know
I still love this to pieces.
Idealism sits in prison
Chivalry fell on his sword
Innocence died screaming
Honey, ask me, I should know
---
Who is online
Users browsing this forum: No registered users and 1 guest