I want some halloumi cheese now.
There's a definite line drawn between the story so far and that which follows with this chapter. I remember at the time, I considered this and Watari Pt 1 to be the same story - there's less than an hour passing between the end of pt one and beginning of pt two. For ages, they were both in the same folder, entitled The Mario Clause. That still exists by the way: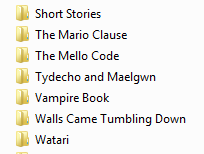 It houses Watari Pt 2 - which will ever be The Mario Clause in my head, but was renamed publicly - while Watari houses pt 1. The only reason they were split up was because Spoiled-Kitten (as beta reader) thought people would shrink from a novel which was 60+ chapters long. (:lol: Annals...)
We hunted for a sensible place to draw a line and divide that massive story into two reasonably sized novels. This was it. The halloumi cheese hour. I'm now messing with it again by merging them back into one gigantic novel, as I create the Watari eBook. Annals proved that people would read that amount of chapters. Though perhaps they wouldn't have been so willing when Watari first came out.
I think that Roger was a fabulous academic, but not at all the man to be making the day to day decisions regarding the kids. He didn't like kids. That wasn't me, by the way - it's canon. This is me running with the implications of reading (in How to Read) that Roger's main dislikes were children. He was fundamentally supposed to be some kind of consultant - the objective brains behind the psychology. If you like, he was a rather more stuffy and staid Valerie for a previous generation.
It was Mr Wammy who should have been sitting behind that desk. He had the empathy and skills to rise to the challenge set out by their Institution. But L needed him out in the field, and Kira meant that Roger's temporary position overseeing things became downright permanent. That's his tragedy.
As for the kids, their tragedy is two-fold:
a) Wammy was absent, then died;
b) Ann waited until circa Walls to realise that she not only had the right to challenge Watari, but a downright duty! She could have turned things around so much sooner, if she'd not worried about whether it was her place to do so.
This now is the fall-out.